Newsletter
I hope you will sign up to get my email newsletter. Doing so will give you periodic information about my newest pieces and career updates. I try to send no more than 8 emails per year and pledge to never knowingly give away your contact information.
---
Latest email newsletter, sent 1/15/21


Mary Michael Shelley
Folk Art Painted Wood Carvings | One of a Kind Original Artwork

  Happy New Year to all. 
There's no better time than the New Year to roll out a new look to my website and these email updates. Hopefully 2021 will leave 2020 behind in the dust once we get a widely distributed vaccine which will help us return to normalcy.

I want to thank all the people who bought my work in 2020 and kept me going as an artist. Many thanks to: Lynda H, Hugh & Valerie, Lisa G, Susan E, Josh A,  Richard M, Lisa G, Syliva B, Thomas H, Maria B, Deborah LW, Charlotte W, Megan O, Jody S, Peter M, Polly S, Kate B, Timothy L, Hilary L, Roald & Eva, Valerie F, Alicia G, Ann C, Howard E, Stef T, Billy M , Cheryl LS, Barbara C, Julia DS, Geri T, Laurie J, Dre A, Kelly M, Maureen J, Dina T, Margie B, John & Janet, Gordon B, Margaret & Robert. It's been a crackerjack year. I tried to make it worth your while by discounting a number of pieces as inducement to move them from my studio to your home.

Besides purchases, I've gotten much loving support from those who are all around me. I am SO grateful  and lucky to have that. 
I look forward to completing a few new commissions this winter, hopefully before the 2021 Ithaca Farmers' Market begins in the spring. I also hope to paint a few large pieces carved at the market last summer. I look forward to the quiet calm of winter days in my studio, focusing on my art.

Stay healthy everyone!
Mary

 
    Support the arts and artists, buy artwork!
Sales are applause - they encourage an artist to produce more work!  
Consider a gift to you or someone else - anniversary, wedding, Christmas, birthday, death, moves or to mark other important life events. Discounts apply to some older pieces, please inquire. Buy on layaway, or payment plan.  I do commissions, usually in the winter months. And yes, I ship.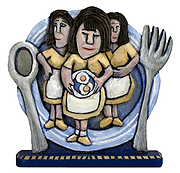 maryshelleyart@gmail.com
www.maryshelleyfolkart.com
If your email or US mail address has changed, please let me know!
  Follow me on social media to see my most recent work.