Inspiration
I started to make my carved and painted pictures when I was 23. My father (who was a commercial artist and ingenious with his hands) and my grandmother (who was Pennsylvania Dutch and always had ten art projects going on concurrently) had great influence as far as my knowing from a young age that I wanted to be an artist. However, I believed I did not have talent as a visual artist. Instead, I went to Cornell University to be a writer.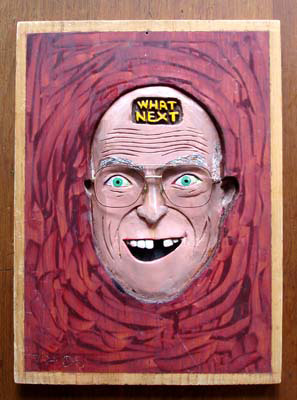 When I graduated, I found various reasons to stay in Ithaca, not the least of which was that I was working with the local historical society to save Clinton House, a large Greek revival hotel located in downtown Ithaca. I wanted to learn carpentry skills so, in 1973, when my father sent me a painted woodcarving that he made, I was inspired to carve and paint as well. I got such immediate positive response to my visual artwork that within one year I had stopped writing and was solely doing painted woodcarvings.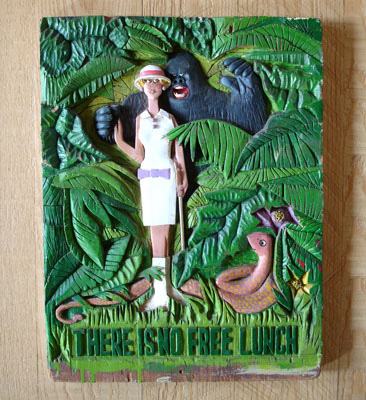 I am entirely self taught as an artist, having had no formal arts education. I worked for fourteen years as a signpainter and a carpenter, and the learning of these trades gave me skills I could also use as an artist. I built my own house in my twenties, and that also taught me a lot.
A number of people in my family have made their living through the use of their hands and have inspired me to do the same. My father worked as a commercial artist with a side interest in patent tool models, and clocks. My father's grandfather was an inventor, holding a patent on, among other things, the pushbutton umbrella. My grandmother had her own shop with lathe and saws. She also made hooked rugs, needlepoint and paintings. My grandmother's father was a tile mason in Philadelphia, Pa. Many of the tools I use now were passed down to me through the family, including my studio work bench where I do all my carving.
When I was a child, I spent a lot of time in the Florida Keys, where my grandparents had a house. One time when my parents were there, they went to Key West and ended up buying a painted carving made by Mario Sanchez, a folk artist who worked in Key West. This carving was the inspiration for my father doing the painted woodcarving that started me on the road to making my own painted and carved artwork.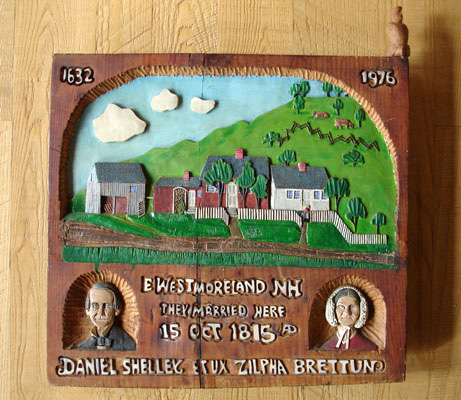 ---
---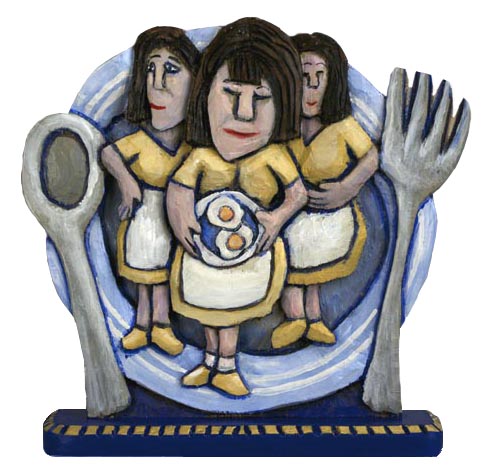 Why the Waitress Image?
She's really me. As an artist I serve up art just as a waitress serves up food! My goal is to produce a quality piece of art that will survive, please and feed the eye long past my lifetime. The waitress serves food with a smile on her face, always the good woman, even though her feet hurt. Artists serve food too, a different kind of food. For your information, my first job was as a waitress. In the 40 years I've been carving/painting I've made perhaps 200 pictures of diners.