About Mary
I'm equally a wood carver and a painter. My artwork has been described as primitive, traditional, untrained, Americana, whimsical, naïve, eccentric, outsider, visionary or carved craft. I am commonly referred to as a folk artist, although I feel most comfortable with the term "self-taught" as in self-made, in the great American tradition. Define me as you will, I just try to make a good picture.
My artwork is entirely carved in white pine and painted with acrylics. Each piece is a unique original hand made by me. I am untaught and untrained as a visual artist. I learned a number of useful skills by building my own house in the back to the land movement of the 1970s, and during my work in the trades as a signpainter and carpenter in the 1970s and 1980s.
I work out of my Ithaca, NY studio, in the heart of the Finger Lakes region. I was born in Doylestown, Pennsylvania in 1950. I have lived in Ithaca, New York ever since I graduated from Cornell '72 with a major in creative writing. While at Cornell, I wanted to be a writer.  One year after graduating my father gave me a painted wood carving he had made of me at the farm where I grew up (Mary Shelley's  father's work). Soon I started to make carvings as well. Eventually I stopped writing and was only making visual art.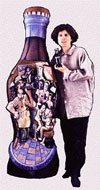 My art is a sort of "picture diary" or "picture story" in which I document life events, emotions and places important to my life. Much as a diary would, it helps me make sense of the events of my life. I go to my studio to settle myself.
My work is carved on rough cut white pine boards that are air-dried in the crawl space beneath the front porch to my house. I start with a sketch, select a board and carve down to create shapes. I use no glued on pieces. A sliding batten is fastened on the back of the carving to prevent warping or cupping. Most of my pieces are carved on four quarter (1" thick) stock. I then paint the carving with acrylics, sealing it front and back (again to prevent warping) with an acrylic varnish. An inner gold-leafed frame, gold leafing being a remnant of my signmaker days, completes the look of my larger works. My goal is to create a quality crafted piece of art that will survive long past my lifetime.
As I make a piece of artwork I become entirely absorbed in it, but once it is finished I get wholeheartedly into the next piece. I work on several pieces at a time, demonstrating carving in the summer at the Ithaca Farmers' Market, and accumulating pieces to paint over the long indoor winter months.
Since 1974 I have completed approximately 1000 carved and painted wood pictures. For fourteen of those years I supplemented my art income by working as a sign painter and carpenter. Since 1990 I have worked as a social worker, and thus you might notice a focus in my work on people- their faces, suffering, hopes, endurance and beauty.
As an artist I experience a sense of isolation because I work alone for many hours of the day. So it comforts me to think of my pictures going to live with people I do not know and becoming a part of their lives.
PIECES IN THE PERMANENT COLLECTIONS OF:
Smithsonian Institute, White House Easter Egg Collection
American Museum in Britain, Bath, England
Museum of American Folk Art, New York, NY
Absolut Vodka Collection
Fenimore Art Museum, N.Y. Historical Association, Cooperstown, NY
High Museum, Atlanta, Georgia.
Petullo Foundation, Milwaukee, Wisconsin
National Museum of Women and the Arts, Washington, DC
Women's Rights National Historical Park, Seneca Falls, NY
Coca-Cola Company
Texaco Corporate Collection
Historic Ithaca
GRANTS:
2001, 1997 and 1994. Community Arts Partnership, Ithaca, Individual Artist Grant
1999. Saltonstall Grant.
1996. SOS Grant, New York Foundation for the Arts.
1996. Money for Women/Barbara Deming Memorial Fund. Grant on the theme of Waitresses entitled "Smile Even Though Your Feet Hurt."
1993. Decentralization Grants Program of the New York State Council for the Arts.
1989. New York State Council on the Arts Grant, Save the Diner Project.
1988 and 1989. New York State Bicentennial Commission Grants, produced commissioned pieces for the Tompkins County Public Library and the Ithaca Tioga Street Parking Garage
1980. America the Beautiful Fund.
1979. Landmarks Preservation Commission of Ithaca.
MAJOR EXHIBITIONS:
2019 - One artist retrospective at New York Folklore, Schenectady, NY
2019 - "Folksy, Cultural traditions and Outside Visions", Group show at AnnmarieSculpture Garden and Arts, In Association with the Smithsonian Institution, Dowell, Md.
2010 - Folk Art Mary Retrospective, 40 years of Carved and Painted Pictures. Solo show at the Cayuga Museum, Auburn, NY
2001 " Let it Shine". Group show at the High Museum, Atlanta, Georgia
2001 One person retrospective at Women's Rights National Historic Park
1998 and 95 One person shows at the Miele Gallery, New York, NY
1996 "Vision and Voice: Folk Art by Women of the 20th Century", group exhibition co-sponsored by the Museum of American Folk Art and Chubb Insurance.
1994 National Baseball Hall of Fame, group exhibit.
1993 One person show, Fenimore Art Museum, Cooperstown, NY.
1993 International Self-Taught Group Show, Galerie Pro Art Kasper, Morges, Switzerland. Received the "Prix Suisse et Prix Europe de Peinture Primitive Moderne 1993". Honorable Mention Prize, best American Work.
1989 Access to Art, Bringing Folk Art Closer, American Museum of Folk Art. This show was designed to allow the blind to touch all artwork and traveled to eight regional galleries in the early 1990's. Shelley's artwork was on the cover of the catalog.
1989, '86, '85 Two person shows at Jay Johnson's America's Folk Heritage Gallery, NY, NY.
1988 Through a Woman's Eyes: Female Folk Artists of 20th Century America. Exhibition traveled to the Isetan Museum of Art, Tokyo, Japan; the Daimaru Museum, Osaka, Japan; and Maruiimai, Sapporo, Japan.
1981 National Museum of American Art, Smithsonian Institute, "More than Land or Sky, Art from Appalachia" traveled through major cities in the thirteen Appalachian Region states, 1982-84.
1976 The American Museum in Britain, Bath, England. "An Alternative Art, the Non-Academic Tradition in America Today" traveled to eight British Galleries.
ARTICLES AND PUBLICATIONS:
2009 "Carving Out a Life: Reflections of an Ithaca Wood-Carver" reprinted with permission from Voices: The Journal of New York FolkloreVol. 35:3-4, Fall/Winter 2009. Copyright 2009 by New York Folklore Society.
2004 Highlights Magazine for Children. May Issue. Article on Shelley's work.
2004 Collector's Mart. Article on Shelley's Work
2003 Wood Carving Illustrated. Article on Shelley's work.
1999 New York Times Art Review mention by Holland Cotter, June 16.
1998 and 1996 Syracuse Herald American.
1996 Absolut Book. Richard Lewis. Contained photo of Absolut Shelley advertisement that appeared in Country Home Magazine, April 1990.
1996. USA Today. Coke At Folk Art Show.
1995. Society for Commercial Archeology Journal. Spring Summer issue.
1994 New American Paintings. Catalog including the winners of mid-Atlantic Regional Open Studios Competition.
1993. Heritage: the Magazine of the New York State Historical Association, winter issue.
1993. Twentieth Century Folk, Self-Taught and Outsider Art. Sellen
1991. Cornell Alumni News, article on Shelley's work.
1991. Museum of American Folk Art: Encyclopedia of 20th Century Folk Art and Artists. Rosenak.
1990. Udderly Bovine, Cow Calendar containing six photos of my work, Crown Publishers.
1986 All American Folk Arts and Crafts. Rizzoli Publishers.
1983 Collector's Guide to American Antiques – Folk Art. Knoph.
1983. American Folk Art of the 20th Century. Rizzoli.
1982 Sourcebook of Architectural Ornament. Van Nostrand Reinhold.
1979 and 1983. Fine Woodworking's Design Books, Volumes two and three.
1981 Washington Post.